Our Updated Look | December 2022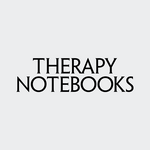 Updated by Therapy Notebooks
Hi there!
We're really excited about our rebrand. Everything has changed: our look, feel, and even our products. We hope you're just as excited as we are, and I'm glad to share more about what's changed (and what hasn't!). 
We know you probably have some questions about this redesign, so please see some FAQs and our answers below:
Why did you change the design?
You responded, and we listened! We updated our notebooks based on customer feedback about legibility, content, and more. We've increased the contrast between the text color and page color, changed all of our notebooks' text color to black (instead of colored), and we've added more writing space to The Anti-Anxiety Notebook and The Therapy Journal. We also made all notebooks hardcover, so you can collect them and keep them on your bookshelf as a keepsake of your progress. 
What has changed?
CONTENT | We've added more entry pages and journaling prompts in most notebooks, to help you process and journal each situation better. We've reframed a few writing prompts, added more journaling pages, and more in our notebooks! Visit each notebook's page to read about these adjustments.
*TEXT | We have increased the opacity of the text color to increase the contrast with the page color, to help with legibility. 
*Note that we have kept the text size the same due to page limitations. 
DESIGN | Each notebook has an illustration on the center of its cover. These illustrations are meant to represent the different thought processes and relationship changes we make while working on our mental health. Visit each notebook's page to read about its illustration.
Can I get the old version instead?
Sadly, no. We are officially sold out of all former editions of Therapy Notebooks. Some retailers—like Anthropologie, Paper Source, and Urban Outfitters—may still be selling our old editions online, if you're interested. They have limited stock, and we will not be reprinting our old editions, so definitely get those sooner than later!  That said, we encourage you to try out the new versions! We think you'll love them :)
If you have questions about your preordered newly-designed notebook, click here to see preorder FAQs.